Psychosynthesis has been called "Psychology with a Soul"
Psychosynthesis has been called "Psychology with a Soul"
"Passing in inner quietness, slowly listening to hear the right word. I am obeying certain conditions. Shall I take this road or that? Shall I respond to this call or wait another?"
Many times in our lives we find ourselves in periods where we are wondering if we are staying true to our own Self, capital S. Are we paying enough attention to our deepest desires? Do we even know what those deep yearnings are? Is it possible that we lost our way as the years rolled on?
Psychosynthesis Life Coaching is a co-creative process that supports healing and spiritual growth. Through a blend of deep inquiry, intuitive insights, healing work, guided meditations, and life coaching tools, this work can help provide understanding and techniques to un-pack those questions.
Psychosynthesis Life Coaching methodology believes in the inherent good, and wholeness of a client, and looks to help clear the way for a client to access the full healing capacity and inner expertise already within them. Psychosynthesis life coaching is not only focused on healing past issues that may be obstacles to the full realization of your life goals but it also includes the important work of revealing what is emerging from within you as your deepest purpose.
I believe the role of a coach is to become a guide supporting the discovery in you of who you truly are and then help you to navigate a clear pathway of inner direction. The goal…to achieve a more meaningful and authentic life.
"Psychosynthesis recognizes that we have a transpersonal essence, a Self, and holds at the same time that the individual's purpose in life is to manifest this essence or Self, as fully as possible in the world of everyday personal and social existence."
– From The Synthesis Center
What is Psychosynthesis?
 Psychosynthesis has been called "Psychology with a Soul". It is an integrative psychology combining Eastern wisdom with Western thought. Unlike some psychologies, it incorporates the Spiritual or Transpersonal Self into its view of the individual. Its aim is to hold the highest vision of human potential and awakening.
Psychosynthesis starts from the foundation that we are all intrinsically healthy and whole, a core premise of Eastern Wisdom traditions. Its approach affirms the reality of spiritual experience as an integral part of human experience. Psychosynthesis acknowledges our individual uniqueness and our connection to the whole. Where suffering can be caused by a loss of contact with who we really are, the psychosynthesis approach seeks to restore and renew this contact.
Fundamentally, Psychosynthesis is a method self-development that teaches how we can become healthy, well-functioning people in harmony with ourselves and the world.
It dates from 1911 where is was developed by Roberto Assagioli, who was an Italian Psychiatrist. Assagioli was known to be critical of psychoanalysis as he thought it focused too much on the pathological side of the psyche and failed to focus on and strengthen what was already healthy in an individual. Assagioli was a student of Eastern philosophy, yoga and meditation. He created a psychology that recognized the spiritual and transpersonal dimensions, recognizing the highest part of our nature that holds the principles of love, will, wisdom and inspiration, as well as accepting the darkness and despair.
In other words, psychosynthesis is a psychology that focuses upon the entire human being with compassion and acceptance, necessary for healing and integration.
My studies in psychosynthesis psychology, Intuitive Healing and life coaching in connection with my years of yoga practice have given me a unique in depth perspective to support others in their spiritual growth and life journeys.
Personal Mentorship in Intuitive Training, Psychosynthesis & Astrosynthesis with Kay Taylor
Certified as a Psychosynthesis Life Coach (PLC) which is a blend of Life Coaching and Psychosynthesis Psychology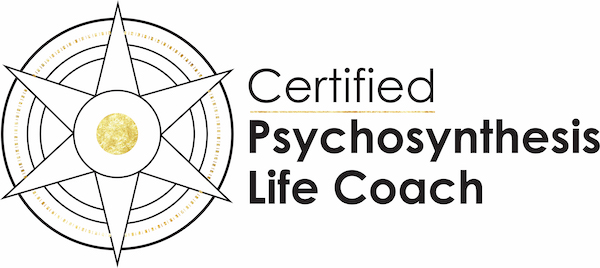 Personal Mentorship with Jon Schottland, Psychosynthesis Counselor & lead trainer at Synthesis Northeast
 "Erika is a very sensitive and skilled intuitive with a natural ability to guide healing transformational processes. With wisdom born of years of dedicated practice and teaching, I highly recommend her as a spiritual coach, intuitive healer and guide"
– Kay Taylor; Astrologer, Intuitive Guide & Psychosynthesis Mentor
I have been working with Erika for over 3 years. First as a yoga teacher and yoga teacher trainer, Erika helped me to better navigate physical (and emotional) issues related to and arising from chronic illness. But as my yogic path unfolded, I need more than asana guidance. Erika and I have worked with many modalities: guided meditation, yoga nidra, chanting and psychosynthesis.
In all of these (and more) Erika is a gifted guide and teacher. Doing this work leaves you feeling vulnerable, exposed and raw, but Erika's loving and compassionate approach has allowed me to explore areas that are uncomfortable (sometimes downright miserable) and emerge more balanced and hopeful.
Our work is ongoing and evolving and I credit Erika with helping me to find a path in my life that I am not sure I would have found without her. It is still opening up new doors, new awareness and new founts of joy and gratitude.
I went to see Erika during a deeply tumultuous and confusing time of my life. I was feeling tender and vulnerable and in need of gentle guidance towards clarity. Knowing how delicate I was feeling my resistance to working with a traditional psychotherapist was strong. When Erika described to me a bit of the work she does with Psychosynthesis and having been a yoga student of hers for many years I had absolute certainty that whatever I might uncover I would be held with love, kindness, strength and acceptance.
Erika is an extremely skilled guide with amazing capacity to hold space for the transporting of the mind to that sacred space where nothing exists other than the object of attention. Within moments I found myself completely absorbed within this space and with my whole body present the offerings of clarity, strength and guidance came forth. The strength, reassurance and peace that I received through the work I did with Erika was not restricted to that particular day alone.
I find myself now, months later, with my mind resting in that same scared space, finding renewed strength, clarity and acceptance for this day."
 "I started working with Erika after experiencing some big life changes. I was in a state of grief and anger, and not able to access or process it. Erika has helped me work through these emotions by looking inward for answers and hope. She is thoughtful, kind and amazingly supportive. Her guidance has been instrumental in my processing and healing. She is the best!"
Schedule a Psychosynthesis Session Today